Protecting seniors from fraud and financial abuse during COVID-19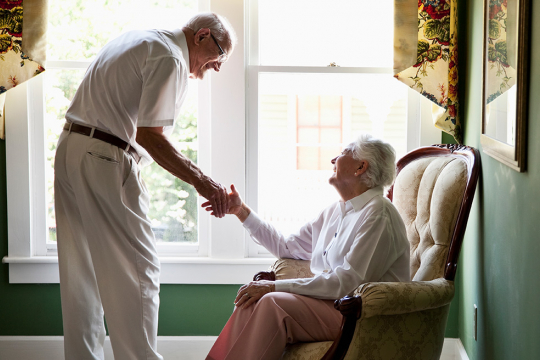 Social distancing to curb the spread of COVID-19 may have a devastating effect on older New Brunswickers – a demographic already at risk of isolation and loneliness.
As the province's seniors self-isolate to protect themselves from this insidious virus, this same social disconnection can put them at greater risk of depression, anxiety, loneliness and financial exploitation.
All of a sudden, their normal social structures have disappeared. The physical presence of family and friends is no longer possible and their community connections -- so crucial to well-being and usually offered through church services or senior groups -- have ceased. 
It is a distressing time for all. But for the province's older demographic – perhaps living alone, on a fixed income, no longer driving nor accessing public transit – the risk of COVID-19 may amplify existing problems and make seniors more vulnerable to fraud and financial abuse. With emotions running high, those feeling isolated may be less likely to think critically and more likely to make a poor financial decision. 
It's in times like these when scam artists and perpetrators of financial abuse purposefully target the vulnerable. It's in times like these when we need to step up for our aging parents and our older neighbours and friends.
Keeping Connected
To protect the seniors in our lives, remember social distancing does not mean social isolation. Social isolation increases their vulnerability to financial exploitation and fraud. That's why it is important to keep seniors socially and mentally engaged while physically keeping them protected from the virus.
Here are some safe ways to connect during the crisis with older family members, friends and neighbours:
Warn them about COVID-19 frauds and scams – Let them know that fraudsters and scammers have found ways to exploit the pandemic. Make them aware of the red flags of fraud, which remain consistent regardless of the fraud or scam. Encourage them to ask questions and think seriously before making financial or purchasing decisions. These are the best defenses from being victimized by a con artist or from making a decision that isn't in their best interest. Learn more about COVID-19 fraud and scams or follow FCNB on Facebook and Twitter.
 
Check on them – Phone them or even leave a note on their front door. If they have the technology, send them a text or email, or Facetime or Skype them to involve them in your household's daily activity. Just let them know you are thinking of them. Ask them if they need anything. 
 
Send baking – If you're baking, make an extra batch and put it in a disposable container. Use a disinfectant to sanitize the outside. Leave it on their doorstep.
 
Help with food and essentials – Consider shopping for seniors while doing yours, or help them to set up delivery from the local grocery store, if available. Some grocery stores offer online ordering or call-ahead ordering with pickup. 
 
Help with medications – Make sure they have ample supply of their medications. Pick up their medications for them. 
 
Engage grandchildren – Get them to send emails, or FaceTime or Skype their grandparents – or even a letter in the mail. Have them make pictures or crafts to drop off on their doorstep. Get older children to use the time to interview their grandparents and record some family history.
 
Order them hobby supplies – If they knit or crochet, make sure they have yarn or crochet cotton to keep up with projects. Supply them with puzzles or books. Order them an adult paint-by-number kit online. 
 
Exercise – Encourage them to take walks. Purchase exercise bands they can use while watching television or guide them through online YouTube fitness classes, such as chair yoga.
 
Faith services – See if their place of worship is offering virtual services and help them set up so that they can participate in from home. 
Have the Talk
Now more than ever we need to focus on the wellbeing of our families. Part of this process could involve having conversations with our aging parents about money, and what happens should they lose mental capacity and the ability to deal with their own affairs. If you haven't already, consider discussing with them their financial situation, their plans and their wishes. If these conversations are left until a loved one becomes ill, they are likely to be more difficult, hurried and emotional.
First, look at reviewing estate planning documents to ensure they are in place and, if so, up-to-date. A will is a legal document that gives instruction on what a person would like to have happen to their property after they pass away.  A power of attorney is a legal document where a person gives another person, or perhaps multiple people, the authority to act for them in relation to their property, financial affairs and/or personal care – usually when they become unable to do so. If your older loved ones do not have these estate planning tools in place now, they may want to consider having them prepared. 
Additionally, find out where important documents are kept, like the will and power of attorney, life insurance policies, and investment and utility bill documents. Have your aging parents provide contact numbers for some of the important professionals in their lives, including their financial planner, accountant or lawyer. Download our Record Keeper from our website to help you organize this information in one handy location.
Combat Senior Financial Abuse
Financial abuse can happen at any time, but often perpetrators strike during times in a senior's life when they may be more vulnerable, like during a health crisis or after the death of a loved one. People who are alone, lonely or in poor health also tend to be more at risk. 
Perpetrators often glean personal details from obituaries and Facebook posts, and even exploit trust within seniors' social and support groups to become more deeply seated in their lives.  
The pandemic, therefore, has created a perfect storm for senior financial abuse – the most common form of senior abuse in Canada. However, it can be difficult to identify or recognize. Learn more about financial abuse and watch for these signs among the seniors in your lives:
Overly protective friend or caregiver: The friend or caregiver may insist on being present when the senior meets with their financial adviser, banker or lawyer. They may also try to isolate the senior and cut off social ties and support networks. Be on the lookout for an overly controlling friend or caregiver or even a reacquainted relative.
 
Fear or sudden change in feelings about somebody: A senior may attempt to cut off relationships with an abusive son or daughter. They may do this in an attempt to remove themselves from a controlling relationship in which they may have been forced to sell their home or personal belongings.
 
Missed bill payments: If they faithfully met their bill obligations and now no longer have money to pay them, it may be a sign that money is missing.