Unclaimed Property Holders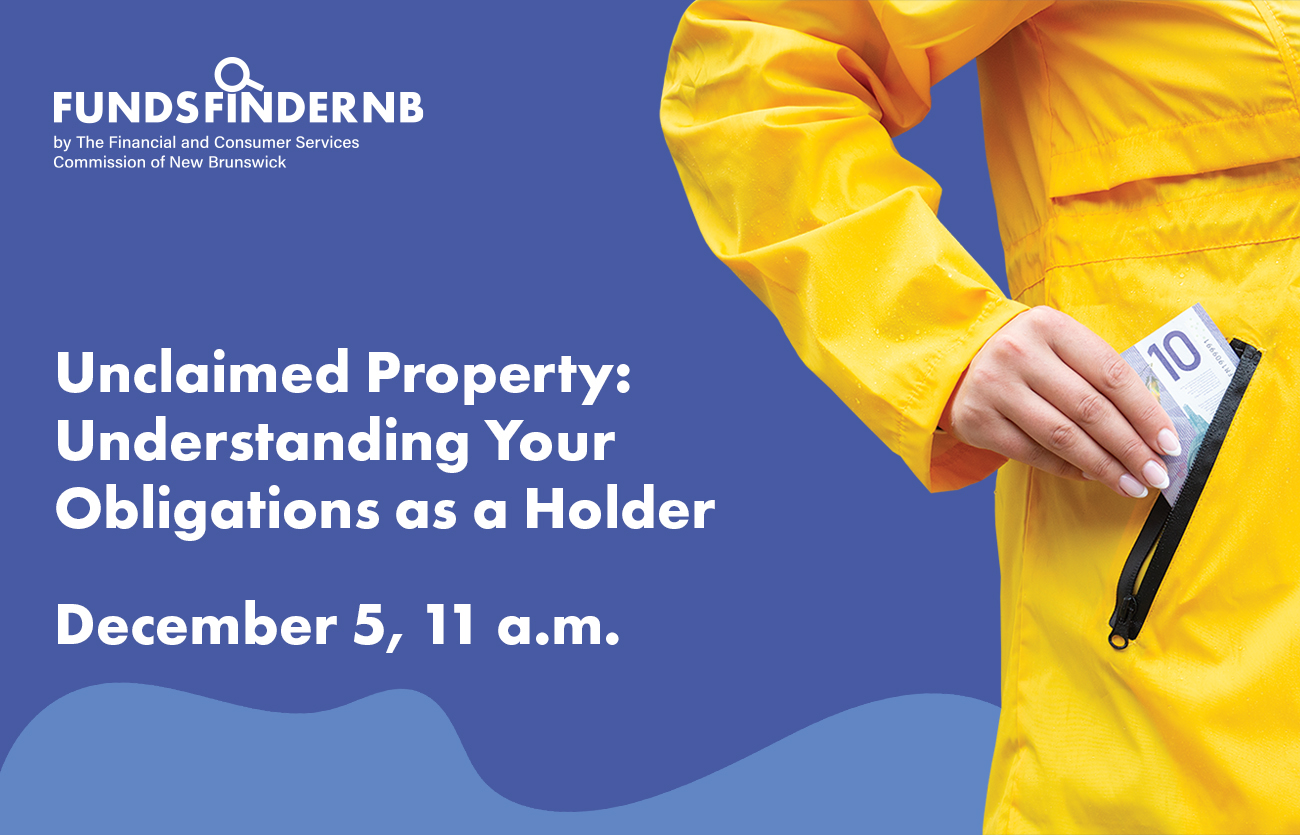 Live Webinar: Unclaimed Property – Understanding Your Obligations as a Holder 

Any type of business in New Brunswick could be holding unclaimed property. Yours might be one of them. Do you know your obligations under the law? 

Under the Unclaimed Property Act, you must report unclaimed property to the Unclaimed Property Program every year between January 1 to March 31. The program, administered by the Financial and Consumer Services Commission, works with businesses and government entities holding unclaimed property to reunite it with its rightful owner. 

The Financial and Consumer Services Commission is hosting a free webinar to help you comply with the law. On December 5 at 11 a.m., join Erin Toole, Director of Unclaimed Property, for Understanding Your Obligations as a Holder. Register here.

To participate in the French webinar on December 6 at 11 a.m., register here.
New Brunswick's Unclaimed Property Act requires holders with unclaimed property to make a reasonable effort to locate and notify the owners of these unclaimed funds. If they are unsuccessful or unable to locate the owners, they must report and deliver these funds to the Unclaimed Property Program. The program will administer a free online tool to allow owners to search for and claim their unclaimed property.
To learn more about reporting and delivering unclaimed property, holders can visit our Resources page on FundsFinderNB.ca.
Who is a holder?
A holder can be a person, a partnership, an incorporated company, an association or a credit union who is holding property for another. 
This could include:
Utilities
Corporations
Partnerships
Sole-proprietorships
Government agencies
Associations, societies and not-for-profit organizations
Estates and trusts 
Why must my business or organization report and deliver to the Unclaimed Property Program?
The property you are holding rightfully belongs to someone else. The program benefits your business or organization because it:
Relieves holder of the expense and liability of carrying the property.
Reduces a holder's record maintenance.
Eliminates a possible source of internal fraud.
Reunites owners with their money and promotes customer goodwill.
My business does not have a physical location in New Brunswick. Do I still need to report and deliver unclaimed property to the program?
If the holder "carries on business" in New Brunswick, they need to comply with the Unclaimed Property Act and the Rules. The concept of "carries on business" is defined in section 6 of the Unclaimed Property Act. Among other activities, the definition covers businesses required by law to have one of the following:
a registered office in New Brunswick, 
an address at which legal process can be served
an agent for service
A holder also "carries on business" in New Brunswick if it has a place of business in or it exercises central management from New Brunswick.
If you are in doubt about whether the Unclaimed Property Act applies to you or your business, you should seek a legal opinion. 
While the Commission administers the Act and Rules, staff are not able to assess legal status of businesses and organizations as they cannot offer legal advice. Seeking independent legal advice is encouraged to avoid compliance issues. 
What are my responsibilities as a holder?
You are required to: 
Identify potential unclaimed property.
Make efforts to notify the owners at the last known address (when the value of the unclaimed property is $100 or more). Visit our Resources page at FundsFunderNB.ca for templates and other helpful guides.
File a report concerning their unclaimed property with FCNB. Visit FundsFinderNB.ca. 
Deliver the property to the Director of the Unclaimed Property Program. Visit FundsFinderNB.ca.
How can my business prepare? 
Here are some steps you can take:
Keep in regular contact with your customers.
Identify any unclaimed property you hold, which has been inactive for three years or more.
Try to contact the owners of the unclaimed property. 
Subscribe here for news and important updates on the program.