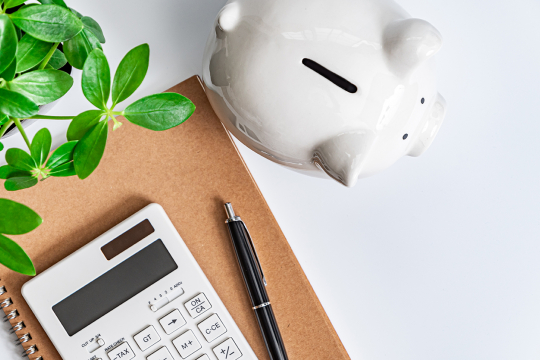 For many New Brunswickers, money worries are top of mind during this difficult year. Financial stress can have a serious impact on your physical and mental health. Below find ways to help you cut back and make small changes that can have a big impact on seven spending areas. 
1. Start tracking your spending and make a budget. 
As a first step to save money, you need to know where you are spending your money. Look back on your bank account statements and categorize your spending. You may be surprised by how much you are spending on certain items. This will give you a good chance to see where adjustments can be made. 
Creating a budget doesn't need to be complicated. We have a free template you can download! 
2. Be a smart eater. 
According to a 2020 Dalhousie University study, Canadian families can expect a food increase of 2 to 4% this year. 
Here are some helpful tips to lower your grocery bill: 
Money saving apps. There are lots of apps (usually free to join) that can either help you earn a little money (by scanning receipts) or by showing you where the best prices are. If you do choose to download and use these apps, make sure you read and understand what you're agreeing to. The EULA (end-user license agreement) and any Terms of Service will explain how your personal information and spending details are stored and used. Be especially cautious with any apps that link to your banking information. Talk to your financial institution before using an app that needs permission to link to your accounts.  
Pack your lunch. You would be surprised how expensive it is to eat out every day. Even if you get a $5 sandwich every weekday, that's $100 a month! 
Coffee shops. Just like eating out, your coffee habits could be contributing to your debt. It is important to treat yourself occasionally. Budgeting is like a diet: if you completely deprive yourself of all goodies, you'll eventually give up. So, set yourself a small budget to treat yourself to a coffee-shop beverage. Take advantage of the programs out there. Most coffee places have their own loyalty programs that give you free coffee. You can often even prepay for your coffee by loading a set amount each week. This could help you stick to your budget! Not a coffee lover? The same approach can apply to any treat you like to enjoy regularly! 
Rejig your groceries. With food prices expected to increase, you may want to rethink how you purchase your food. According to Dalhousie University research, fruits and vegetables are what Canadians are most concerned about when it comes time to food prices. Consider buying fruits and vegetables only when they are in season and buy frozen when they are not. 
Meatless Mondays. Meat is by far the most expensive part of your grocery budget. Replacing meat with another protein (like legumes, eggs and grains) even one day of the week could save you a bundle. 
Create a meal plan and shop at home first! Creating a weekly meal plan will save you money and time (win win!). Go through your fridge, pantry and freezer and try to create meals with those ingredients. After you've created your meal plan for the week, write down any missing ingredients. If you are struggling for ideas, there are lots of apps and websites that will help you find recipe based on the ingredients you already have! You're welcome. 
3. Save on your power bill.  
Whether you rent or own, heat with gas or electricity, look for ways to reduce your monthly energy bill. 
Sure, some more expensive changes can make an impact on your monthly bills, such replacing your appliances with newer or high-efficiency models, installing a heat pump, or replacing older windows. However, these may not be in your budget. Here are other free or low-cost ways you can reduce your energy bill: 
Lower the thermostat to 17C when you are sleeping or are away. You could also install programmable thermostats to make this automatic!  
Use cold water to wash your clothing and dry them using a clothing rack (or clothes lines during warmer months).
Open all curtains during sunny days in winter to let the sun help warm your home (close them at night to keep the heat in!). Do the opposite during warmer months to keep your home cool.
Remove the dust from your baseboard heaters to ensure they run efficiently, which will also reduce the amount of dust in the air. 
Use a smaller appliance like a microwave, toaster oven or crockpot instead of your oven. 
Switch your light bulbs to LED, which are 85% more efficient than other lightbulbs and last longer. 
Try and avoid peak demand hours. Peak demand hours are usually between the hours of 6 to 9 a.m. and 4 to 8 p.m., when most New Brunswickers are starting their days and coming home from work. Avoiding these hours helps our energy companies spread the need for energy throughout the day without relying on more expensive fossil fuel generation to meet peak demand. This is even more important during the winter months when we are using more energy to keep our homes warm. If your appliance has a delay start, use that to avoid peak hours. 
Talk to your utility company about equalized billing. An equalized payment plan means you pay the same amount each month based on how much energy you used in the last year. This doesn't lower your energy costs – it spreads them out throughout the year, so it can take away the sting of higher winter bills. Plus knowing how much your monthly bill will be can help you budget. Be aware, that at the end of the equalized billing period, you may have a balance to pay (if you used more energy than estimated), or a credit (if you used less than estimated). It is important to always review your monthly usage, even with equalized billing, and adjust the monthly payment to try and avoid a balance.
4. Consolidate your debt and lower interest rate
Interest payments can make it hard to pay down a loan, especially if you are making only the minimum monthly payment. Try cutting down these costs by speaking with your creditors about setting up a repayment plan, getting a lower interest rate, or consolidating your debts.  
Some benefits of consolidation are:
Having only one monthly payment.
Paying less interest overall.
Paying off your debt faster. 
It's important to realize that debt consolidation and debt settlement are not the same.  Using a debt settlement company can have a negative impact on your credit and there are no guarantees that your creditors will negotiate with the settlement company. Before enlisting a debt settlement company, understand your consumer rights and the impact any negotiation or settlement could have on your credit score. Visit our Debt Settlement page for more information. 
5. Reduce your entertainment expenses 
When trying to save money, many people look at entertainment as one of the first items to cut. However, they often forget to look at the regular entertainment expenditures that eat away at their monthly budget. 
Here are forms of entertainment you may have overlooked: 
Your cable bill. Examine your television viewing. How much TV do you watch and is your cable bill worth the price? Many streaming services exist that are a fraction of the price. However, subscribing to multiple streaming services might make you end up spending as much as on cable. If the goal is to reduce spending, make sure to evaluate which one may best fit your family 
Be creative. Give your family a challenge this weekend by asking them to come up with fun and free activities that everyone would like!
Audit your newspaper and magazine subscriptions. An unread subscription is nothing more than expensive clutter. Instead, set up alerts on your phone or email about important news topics, or listen to the radio. If you're looking for reading material, hit up your local library or see if your library has an app that lets you borrow e-books! 
Dine in. Take-out and dining out can be a nice luxury and a welcomed break for a busy family, but the expense can add up. Try out a new recipe that you can cook together as a family instead. 
Review your subscriptions. Make sure to audit your apps or other monthly subscriptions that are automatically renewed or paid each month. Much like auditing your newspaper and magazine subscription, if you aren't using their services you are just wasting money (and space on your phone).
6. Insurance Cost
Contact your insurance agent or broker to see if there are ways to save on your insurance costs while maintaining the coverage you need. For example, many insurance companies offer a discount if you bundle your home and auto together or all family members use the same company. 
Buying insurance isn't just about getting the lowest price on your policy. When you're shopping for insurance make sure to:
Use licensed representatives: Use our Insurance Licence Search Tool to confirm that FCNB has licensed the agent or broker and the insurance company you're considering working with.
Know how much insurance you need: whether it is insurance on yourself, something you own or even something you want to protect, think about the full financial impact of not having appropriate coverage.
Know what is (and is not) covered:  look at how much coverage a policy offers, not only the premiums you have to pay. Lower premiums may sound good, but if you do not have enough coverage it could cost you much more in the long run.
Re-evaluate: Speak with your insurance agent and broker regularly to make sure you're getting the best price and that you still have the coverage that is right for you and your situation. 
Shop around: You may be able to find the same coverage at a better price with a different insurance company. However, make sure that the coverage is the same or better. Also, don't assume that your broker has compared prices for all insurance companies.
For more information on insurance, visit our Insurance webpage. 
7. Debt the halls with bills of holly. 
It can be very easy to overspend on holiday shopping. All that spending could lead to a major holiday hangover! As much as we all want to have that magical feeling, it's important to take a step back and really remember what's important. 
With a little bit of planning and some creative thinking (and budgeting!), you can celebrate the holidays without a mountain of debt waiting for you in the New Year. 
Here are some ways to cut back on holiday spending:
Give experiences instead of gifts. The gift of time far outweighs the gift of money. 
Budget. Budget. Budget! Make sure to budget for each member of your family and account for everything that comes along with the holidays, such as traveling, entertaining, gift wrapping supplies, etc. Once the holidays are over, evaluate how much you spent and build it in next year's budget. Your future self will thank you. 
Be realistic. Don't forget that everyone has their own financial struggles and successes. Don't compare yourself to others. Spend within your means. 
Create. Cut expenses and make your own cards and presents – at least for some people. You don't have to be a DIY guru or an artist to make your own gifts. It can be as simple as making a loaf of banana bread or homemade cookies, or coupons for snow shoveling or other help around the house. 
Holiday entertaining. Entertaining can be quite expensive. Challenge yourself to think of a menu that can be made on a budget or asks guest to provide a dish to share. 
No matter what tips you use – good habits like a budget, watching your spending and regularly reviewing where your money goes can help reduce financial stress in your life.