Are you considering an online payday loan?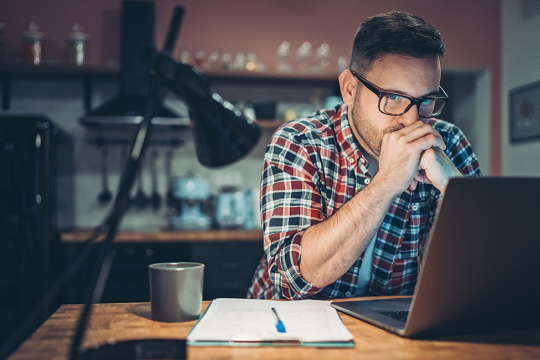 Our economy has experienced many ups and downs in the past two years due to the pandemic, inflation, increasing interest rates, and now a looming recession.  Rising prices may affect some New Brunswickers' ability to meet day-to-day expenses, causing them to consider a loan from an online payday lender as a short-term fix to an immediate financial need. As the number of consumers searching for online payday loans increases, so too does the risk of becoming a victim of fraud by choosing to work with an unlicensed payday lender. 
Payday loans are often used as a way to cover expenses until you receive your next paycheque. When faced with hard spending choices, you may feel like a payday loan is your only option. A payday loan is an extremely expensive way to borrow money. Before you take out a payday loan, carefully consider the expense and any other alternatives. 
If you choose to take out a payday loan, it is important to choose a licensed payday lender and know the risks involved when dealing with unlicensed payday lenders. 
Why should I work with a licensed payday lender?
In New Brunswick, any person offering, arranging or providing a payday loan must obtain a licence from FCNB to be legally allowed to operate in New Brunswick. Licensed payday lenders are inspected by FCNB to ensure they comply with consumer protection laws. When a payday lender is not licensed, you can never be sure who you are dealing with, and you put yourself at risk of illegal collection behaviour.  Working with a licensed payday lender makes it more likely that you will have success exercising your rights under New Brunswick's consumer protection laws if the licensed payday lender breaks the rules.
Online payday lenders must be licensed and follow the same rules as payday lenders with storefront locations. Check to see if the payday lender you are considering is licensed with FCNB. 
All payday lenders in New Brunswick must:
Write all agreements in clear and easy-to-understand language.
Provide a signed and dated copy of the agreement at the time it is signed.
Give you a cancellation form at the same time you receive your loan should you wish to cancel within 48 hours.
Display educational information that explains the cost of a payday loan over time compared with other borrowing options, like a cash advance from a credit card.
Allow you to only borrow up to 30% of your net pay from your most recent pay stub, with a maximum limit of $1,500.
Charge a maximum interest amount of $15 for every $100 you borrow.
How do I know if an online payday lender is licensed?
In addition to the rules mentioned above, online payday lenders must also:
Display their business name, license number and expiration date on the section of their website for New Brunswickers. This information must be at or near the top of the introductory page.
Inform consumers of New Brunswick's payday loan rules in a clear and visible way on their website and have the consumer acknowledge the rules before they can access the loan application. 
Post loan details, like the total cost of borrowing.
Just because you find a payday lender online or see an ad for a payday loan, it doesn't mean the lender is licensed to operate in New Brunswick. Always check with FCNB to make sure you are working with a licensed payday lender.
Search Licensed Payday Lenders
What are the risks of working with an unlicensed payday lender?
You have rights under New Brunswick's consumer protection laws if you take out a payday loan. Payday lenders must also follow certain rules that protect you when you pay back a payday loan. Working with a licensed payday lender gives you greater protection as a consumer since licensed payday lenders are obligated to follow these rules and there is a greater chance you will be able to resolve an issue with them if they aren't following the laws as required. Unfortunately, many unlicensed payday lenders don't follow these rules. Working with an unlicensed payday lender puts you at greater risk since they can be difficult to locate, making it hard to enforce your rights if you are being mistreated.
An unlicensed payday lender may use unlawful practices and intimidating behaviour to pressure you into paying back your loan, such as:
Forcing you to sign over your car or house to cover payday loan payments
Accepting property (like a car or house) or a written guarantee as security to cover a payday loan
Charging fees or penalties if you want to pay the loan back early or prepay the outstanding balance at any time
Garnishing your wages or forcing you to sign documents allowing the payday lender to collect payment from your employer
Contacting you at work or asking to speak to your employer
Harassing you, your employer, your friends, and your family at home, at work, and even online. 
You should never provide a payday lender with access to your bank account. 
Lastly, it is illegal for a payday lender to provide more than one loan at a time. Taking out multiple payday loans can cause you to end up in a cycle of debt that is very difficult to escape. 
What should I do if I'm being harassed by an unlicensed payday lender?
Reporting harassment and fraud by payday lenders helps everyone. By reporting unlicensed payday lenders, you may prevent others from being affected by unlawful practices.
Here are some places you can report unlicensed payday lending activity, harassment, and fraud:
Your local police and RCMP
Your telephone service provider if you are being harassed by robo-calls and/or threatening phone calls
What should I do if I'm having issues with a licensed payday lender?
Remember, as a New Brunswick consumer, you have rights when dealing with payday lenders.  Before deciding to take out a payday loan, make sure you are dealing with a licensed payday lender. If you are having issues with a licensed payday lender, learn about your rights when it comes to payday loans. If you believe the business is breaking the rules, you can submit a complaint to FCNB.