Consumer considerations when hiring home building or renovation contractors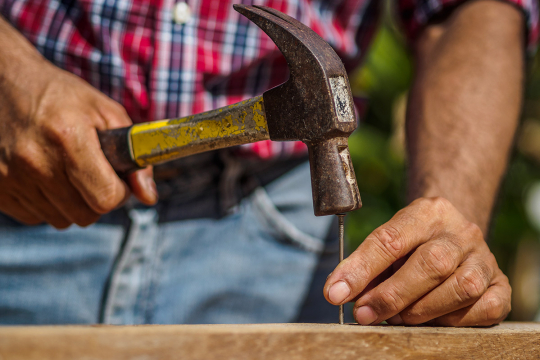 FCNB does not license, oversee or regulate builders and renovators.  This information is provided for informational purposes to support informed consumer decision making and is not intended to replace professional advice.
The Financial and Consumer Services Commission provides information and educational resources to help consumers make informed spending decisions.
Being a smart consumer is about more than just getting a great deal. It's about knowing your rights and responsibilities as a consumer, and what protections you have when making a consumer purchase in New Brunswick. 
Some of the largest spending decisions you'll make may involve your home. Whether you're purchasing a new home, renovating your existing home, or planning a construction project, as with any major purchase, it's important to take the time to consider all aspects of the purchase and do your homework before handing over any money or signing a contract
Here are some general smart spending tips and resources that may help you in your home project planning and spending decisions. 
Consider the Costs
Home building or renovating can come with many different costs to consider and decisions to make.  And these costs can quickly get out of hand if you don't have a good budget in place.  Before any major purchase, have your budget in mind of what you are willing to and can afford to spend on the products or project.  
Need a hand getting your budget in order before you buy a home or embark on a renovation project? Use our Budget Tool.
Borrow Responsibly
If you chose to use credit to finance your home renovation project, it's important that you have a plan to pay it back, and you understand the full cost of paying for a project or product with credit. Check out these tips for building and maintaining good credit habits.
If you are building a new home, visit the Mortgage section of our website to learn more about mortgages and working with a mortgage broker.  
Shop Around 
Just as with any major purchase, it's a good idea to shop around before handing over your money.  Don't look at the price alone. Also consider the level of service you'll receive from a service provider, and the experience of past customers.  Sometimes what seems like a great deal now could cost more in the long run.  Remember – if it sounds too good to be true, it probably is.  
Check References and Reviews 
When choosing who to work with, you may also wish to read the reviews or FAQs online or speak to references.  Consider asking the service provider to provide references for similar jobs they've done. You may also want to check with the Better Business Bureau to see if complaints have been filed against the business. 
Know What to Expect
The Canadian Home Builders' Association - New Brunswick (CHBA NB) is the New Brunswick arm of the national Canadian Home Builders' Association (CHBA). The CHBA is a self-funded and self-regulated trade organization whose members come from a variety of companies including home builders, renovators, trade contractors, lending institutions, insurance provides and more. No provincial regulatory body or oversight of builders and renovators exists and membership in the association is voluntary. 
CHBA NB's website has resources and tips to help New Brunswickers who are planning a project and looking to hire a builder or renovator. The CHBA national website also has information for current and future homeowners to help through the home buying or renovating process, including what to expect in the process, warranty and contract considerations and deciding who to hire.  
Although contractors such as builders or renovators are not licensed, some trades, such as electricians and plumbers, must be licensed with the NB Department of Public Safety. 
Contracts and Warranty Information
Ensure that you have all details in writing of any warranties that come with the products and materials that will be used in your renovation project, and any after sales service warranties that exist.
Do not rely on verbal agreements alone.  It is good practice to get everything in writing, including promises, warranties and contracts. Do not feel pressured into signing a contract before you have had the opportunity to fully review it or seek professional advice.  
Cash Discounts or Under the Table Deals
This type of transaction may present risks that could cost more in the long run and offset any savings you get up front 
An under the table cash deal may leave you with no legal recourse if something goes wrong or the work isn't satisfactory. Without a written contract or receipts of payment, it also might be difficult to prove what was agreed to and what payments were made, putting your money at risk.  
Know Where to Go for Help
If you are not happy with the work being done, contact the contractor and give them a chance to correct any problems first.  Keep in mind that the complaints process may vary between businesses and service providers.
If you are unable to resolve the issue with the contractor, you may want to contact:
The Better Business Bureau (BBB) provides dispute resolution services for consumers. When consumers are unable to resolve a complaint within a company's process, BBB offers mediation or arbitration services as a tool for resolution. Consumers can submit a complaint online.
The Canadian Home Builders Association has a process for issue resolution and dealing with complaints involving a member or industry-related company product or service.  
Tips for making an effective Complaint
While the Financial and Consumer Services Commission cannot assist consumers in making a complaint against a renovator or builder, the following are some best practices when dealing with a company that can apply in a variety of situations: 
Keep a file of relevant documents such as receipts, contracts, application forms, agreements, account statements, letters, faxes, e-mails and notes of conversations.
If you find yourself in a conflict with a company, document the steps you took to resolve your complaint. Write down who you spoke to, the date and what was discussed. 
Make complaints in writing. State clearly what you think went wrong and when. 
Record the facts and gather all relevant documents with respect to your complaint. 
Determine what you want to achieve. For example, are you looking for compensation or looking to have a reprimand issued? 
Respond as quickly as possible to any requests for more information from the company. 
The federal Office of Consumer Affairs also offers a detailed step-by-step complaint roadmap.